Comparing Liquid and Sheet-applied Bridge Deck Waterproofing Membranes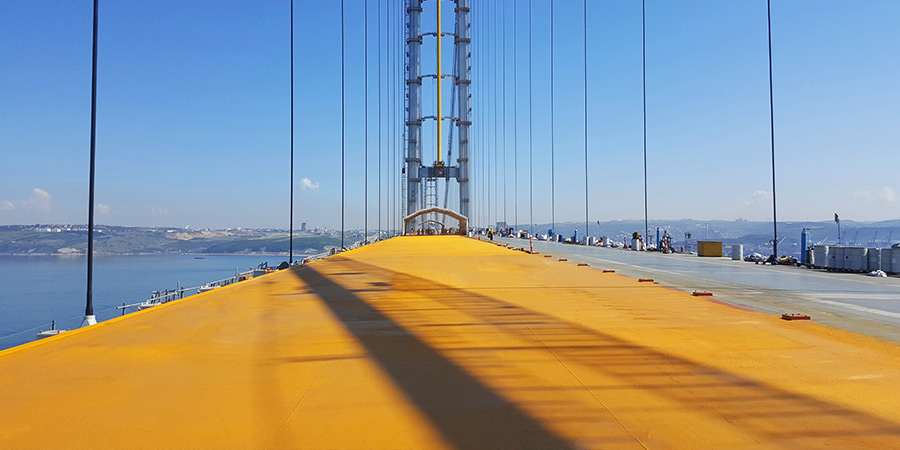 Years ago, engineers had little choice but to use sheet-applied waterproofing for protecting bridge decks. However, over the past few decades, more bridge engineers are specifying liquid waterproofing membranes to help extend the design life of the bridge and accelerate project completion.
Key advantages of liquid-applied bridge deck waterproofing membranes
More effective waterproofing
The most common areas where sheet waterproofing solutions fail is at joints and seams. With high performing liquid-applied waterproofing, this concern is removed because the system cures to form a monolithic and fully bonded membrane to prevent water penetration and migration. Liquid waterproofing coats the entire surface evenly, conforming to the geometry of the bridge deck. This way, the system eliminates vulnerable joints and seams, and adapts to minor imperfections in the bridge deck surface. 
Gain stronger adhesion for improved design life
Pre-formed hot-applied sheet waterproofing systems tend to have challenges to achieve adequate adhesion to the substrate for the bridge deck application. Once installed, the adhesion of hot-applied sheet waterproofing can be adversely affected by hot asphalt paving.
High-performing liquid-applied systems don't have this issue. The ELIMINATOR® liquid-applied bridge deck waterproofing membrane offers a superior chemical bond between the substrate, membrane, tack coat and asphalt surfacing. This strong bond promotes long-term performance, even in extreme weather conditions. Once the multi-layer ELIMINATOR® system is applied, on-the-spot QA, including tensile tests, are immediately performed on-site to verify the application of a continuous waterproofing membrane and the resilience of the adhesion. 
Accelerate bridge completion
There's a good deal of workmanship needed for dealing with sheet-applied waterproofing, since the preformed sheets need to be cut to fit the exact geometry of the bridge, and to accommodate any detailing along the bridge such as expansion joints and drains. 
It's typically much faster to spray apply liquid waterproofing instead of custom-cutting sheets. Spray application of waterproofing is a highly efficient, cost effective method of installation that is simple and effective to perform on live bridge projects.  
Eliminate risky hot works
Sheet-applied bridge deck waterproofing membranes often require torch applied installation, which has inherent safety dangers. The U.S. Occupational Safety & Health Administration (OSHA) warns that "all hot work is potentially hazardous." 
These risks have compelled some regions, such as New York, to enact further regulations for this work. For example, in some areas, general contractors must secure hot works permits, and hire specially trained applicators as well as fire watch supervisors to oversee the work.
Using a cold-applied liquid product like the ELIMINATOR® liquid-applied bridge deck waterproofing membrane avoids these added costs and hassles by eliminating the need for hot works. 
Accommodate structural movements
The highest performing liquid bridge deck waterproofing membranes surpass sheet-applied membranes in a number of ways. For example, steel reinforced concrete bridge decks will inevitably crack, which will allow water and waterborne contaminants to promote corrosion in the rebar. Effective waterproofing must be able to accommodate movement, especially the propagation of cracks, particularly in concrete substrates. 
In addition, bridges are often subjected to heavy traffic loads, high winds and in some cases tectonic shifts, which can put added pressure on the waterproofing membrane. Liquid-applied waterproofing membranes that are designed specifically for bridge deck applications, such as the ELIMINATOR® system, are invaluable in providing effective performance in these conditions. 
Liquid-applied waterproofing membranes with physical and performance characteristics designed specifically for the purpose of bridge deck waterproofing are the ideal solution for protecting bridge decks from premature deterioration and for extending the service life of bridge decks in increasingly demanding circumstances.  
Tags
Bridge Deck Waterproofing
Bridges
ELIMINATOR
Transportation Infrastructure
Waterproofing