Preprufe® and Bituthene® used for the completion of Italian sports centre.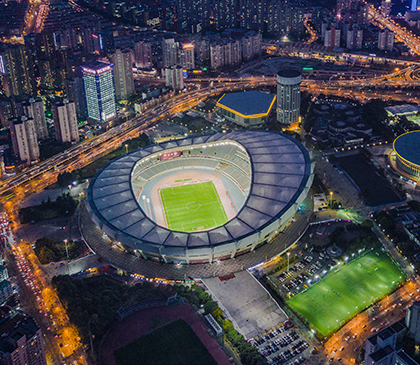 Project
Bortolotti Centre
Client
Atalanta Bergamasca Calcio S.p.A
Agent
Edile MI.RI S.r.l – Ghisalba (BG)
Structural design
Dr. Eng. Mario Zamboni (BG)
Architectural design
Arch. Rino Cattaneo – Verdellino (BG)
Site Manager
Geom. Silvano Righentini
Waterproofing
IRIDE S.r.l Misano Gera d'Adda (BG)
Area Technical Manager
Geom. Roberto fortune (Agent GCP Applied Technologies S.p.A)
GCP Solutions
Preprufe® pre-applied waterproofing, Bituthene® waterproofing
The Overview
The Project
Atalanta Bergamasca Calcio S.p.A. gives a new pulse to the activities of the Bortolotti Centre. This project included improving the shape of the centre, rebuilding the existing buildings and building new sports and management facilities.
The sports centre is located next to Ciserano and Verdellino, found in the Zingonia region, at the centre of the low Bergamasca plain, halfway between Bergamo and Treviglio. Inside, one part of the building was dedicated to offices, one part to locker rooms, a gymnasium, a sauna and shops, and a third to a reception area with a cafeteria and relaxation rooms.
The stadium construction project covers a large area of over 2,800 m2, of which 1,400 m2 is underground and the remaining 1,400 m2 on three above ground floors, giving 4,970 m3 underground and 4,300 m3 above ground.
"The basement area was intended for dedicated spaces requiring a dry and healthy environment - requiring an effective waterproofing system resistant to water and moisture was essential."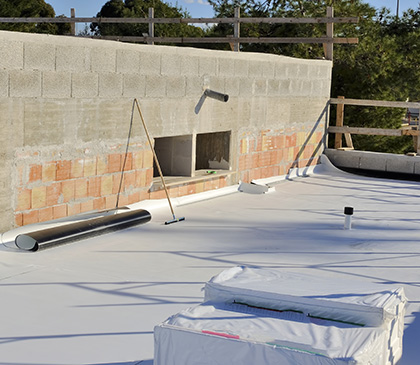 Stadium construction was centred in an area where the level of the water table was high, which involved both careful planning and organisation of the site. Water with a high-variable degree of hardness - and also containing salts and other particularly aggressive chemical products - may come in contact with stadium construction; this requires the use of an advanced waterproofing system.
The spatial division of the structure is highly-complex and articulated. The basement was intended for "dedicated" spaces in which a dry and healthy environment was essential. This included medical rooms, changing rooms, gymnasium, kitchens, cafeteria, bar, pantry, offices, the print room and meeting rooms. This extensive use of the basement was made possible by using a stable and effective waterproofing system resistant to water and humidity.
The chosen stadium construction waterproofing product, Preprufe®, is a pre-applied membrane. It consists of a robust film of high-density polyethylene (HDPE), impermeable to water, water vapour and gas, and a special multi-laminar matrix, which develops a high capacity for adhesion when loaded by the pressure of concrete during the pouring and hardening phase.
Preprufe® has certain important advantages:
High mechanical strength and therefore resistance to puncturing

Impermeability to water, water vapour and gas
Non-perishability with time and therefore high durability

Resistance to aggressive agents in water and in the soil
Preprufe® not only protects but becomes an integral part of the structure. This perfect sealing prevents the phenomenon of migration of water and moisture in the membrane and concrete interface, thereby eliminating possible infiltration of water into the structure.
Other Waterproofing Solutions
For waterproofing the walls, the stadium construction project adopted a waterproofing system called Bituthene®, which consists of a special preformed waterproofing self-adhesive membrane, applied cold. With a thickness of 1.5 mm, Bituthene® is a super-adhesive compound of rubber-bitumen, coupled with a special double-layer crossed film of high-density polyethylene (HDPE). It adheres completely to the concrete surface, preventing the migration of water. The membrane was protected by means of the Hydroduct® 200 prefabricated drainage geocomposite.
Our waterproofing systems are designed for ease of use, without having to adopt special protection, and can be applied without the help of special tools or flame, therefore fully respecting safety and the environment.
Blue360sm Product Performance Advantage: Because every project, large or small, deserves the best level of protection.
gcpat.id | For technical information: asia.enq@gcpat.com

GCP Applied Technologies Inc., 2325 Lakeview Parkway, Alpharetta, GA 30009, USA
PT GCP Applied Technologies Indonesia, Cikarang Industrial Estate Kav C-32, Cikarang, Bekasi 17530
This document is only current as of the last updated date stated below and is valid only for use in Indonesia. It is important that you always refer to the currently available information at the URL below to provide the most current product information at the time of use. Additional literature such as Contractor Manuals, Technical Bulletins, Detail Drawings and detailing recommendations and other relevant documents are also available on www.gcpat.id. Information found on other websites must not be relied upon, as they may not be up-to-date or applicable to the conditions in your location and we do not accept any responsibility for their content. If there are any conflicts or if you need more information, please contact GCP Customer Service.
Last Updated: 2022-01-27
https://gcpat.id/en-gb/about/project-profiles/atalanta-sports-stadium-successfully-implements-comprehensive-waterproofing