Bituthene® Mastic
One part, gun or trowel applied mastic for sealing Bituthene membrane terminations and details
Product Description
Bituthene® Mastic is a rubberised, asphalt-based mastic. It has excellent adhesion to structural concrete, masonry and wood. The VOC (Volatile Organic Compound) content is 200g / L.
Architectural and Industrial Maintenance Regulations limit the VOC content in products classified as Architectural Coatings. Refer to Technical Letters at www.gcpat.com for most current list of allowable limits. Bituthene Mastic is available in tubes or pails.
Application
Bituthene Mastic is designed to seal terminations, edges of patches and overlaps in detail areas. On vertical applications, the mastic must be applied to both the top and bottom terminations.
Product Advantages
Excellent adhesion
Seals terminations, edges of patches and overlaps in detail areas
Limitation
Bituthene Mastic is an integral part of the Bituthene waterproofing system. This mastic should not be applied where it will be covered with Bituthene waterproofing membrane, except as permitted as a temporary cutoff. It should not be used as a primary waterproofing material.
Application Procedures
Safety, Storage and Handling Information
Bituthene products must be handled properly. Vapours from solventbased primers and mastic are harmful and flammable. For these products, the best available information on safe handling, storage, personal protection, health and environmental considerations has been gathered. Carefully read detailed precaution statements on product labels and the Material Safety Data Sheets before use.
Application
Apply Bituthene Mastic either with a caulking gun or trowel. If applied with a caulking gun, level the bead with a trowel to about 0.125in. (3mm) thickness and 0.5in. (13mm) to 1in. (25mm) width. When applied as a temporary cutoff, trowel Bituthene Mastic to 0.060in. (1.5mm) thickness. Bituthene waterproofing membrane may be placed over the thin cut off the next day. On the bottom edge of vertical applications, Bituthene Mastic should be troweled upward. Use it liberally at membrane terminations.
Material usage requirements for Bituthene Mastic will vary widely from job to job. On large horizontal plaza areas with few protrusions, only about one quarter of a tube may be required per roll of membrane. A vertical application may require one half tube or more per roll of membrane. Applications involving other protrusions may require one or more tubes per roll.
Clean tools with mineral spirits at the end of each day. Mineral spirits is a combustible liquid and should be used only in accordance with the manufacturer's safety recommendation. Do not use solvents to clean hands or skin.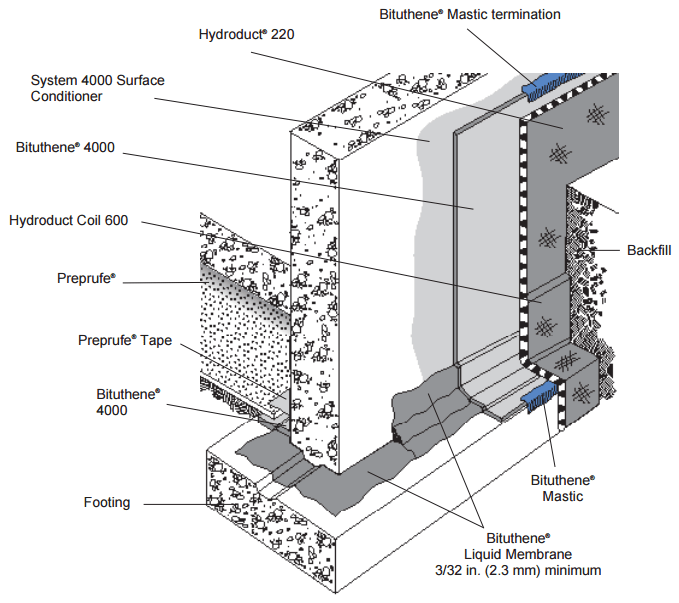 Drawings are for illustration purposes only.
Please refer to GCP Applied Technologies for specific application details.
Supply
Bituthene Mastic
 
Unit size
4.5 L Pail
Weight
Gross weight 3kg / pail
Coverage
100 linear ft/gal (8.1m / L)
[1in. (25mm) wide troweling]
Health and Safety
Refer to relevant Material Safety Data Sheets.
Quality Assurance
GCP Applied Technologies is certified to ISO 9002 by TUV SUD PSB Pte Ltd.
Technical Services
For assistance with working drawings for projects and additional technical advice, please contact GCP Applied Technologies.
gcpat.id | For technical information: asia.enq@gcpat.com
Australia 1800 855 525 New Zealand +64 9 448 1146 China Mainland +86 21 3158 2888 Hong Kong +852 2675 7898 India +91 124 402 8972 Indonesia +62 21 893 4260 Japan +81 3 5226 0231 Korea +82 32 820 0800 Malaysia +60 3 9074 6133 Philippines +63 49 549 7373 Singapore +65 6265 3033 Thailand +66 2 709 4470 Vietnam +84 8 3710 6168
We hope the information here will be helpful. It is based on data and knowledge considered to be true and accurate, and is offered for consideration, investigation and verification by the user, but we do not warrant the results to be obtained. Please read all statements, recommendations, and suggestions in conjunction with our conditions of sale, which apply to all goods supplied by us. No statement, recommendation, or suggestion is intended for any use that would infringe any patent, copyright, or other third party right.
Bituthene, Hydroduct and Preprufe are trademarks, which may be registered in the United States and/or other countries, of GCP Applied Technologies, Inc. This trademark list has been compiled using available published information as of the publication date and may not accurately reflect current trademark ownership or status.
© Copyright 2017 GCP Applied Technologies, Inc. All rights reserved.
GCP Applied Technologies Inc., 62 Whittemore Avenue, Cambridge, MA 02140, USA
This document is only current as of the last updated date stated below and is valid only for use in Indonesia. It is important that you always refer to the currently available information at the URL below to provide the most current product information at the time of use. Additional literature such as Contractor Manuals, Technical Bulletins, Detail Drawings and detailing recommendations and other relevant documents are also available on www.gcpat.id. Information found on other websites must not be relied upon, as they may not be up-to-date or applicable to the conditions in your location and we do not accept any responsibility for their content. If there are any conflicts or if you need more information, please contact GCP Customer Service.
Last Updated: 2021-02-05
https://gcpat.id/en-gb/solutions/products/bituthene-mastic