HYDRODUCT® 650
High compressive strength, pre-fabricated geocomposite drain consisting of a studded polystyrene core covered with a heavy duty, needle punched, non-woven polypropylene filter fabric
Product Description
Superior compressive strength - studded core accepts structural and traffic loads, allows water to flow to designated drainage collection points.
High flow capacity - drains 3 litre/sec/metre width.
Simple, reliable drainage membrane - collects and controls percolated water under surfacing on podiums, trafficked decks, bridge decks, pipe bays, service ducts, planters on suspended or elevated roof areas, and basements.
Rot proof - unaffected by permanent immersion in water, bacteria, dilute acids and alkalis.
Cost effective - replaces expensive aggregate drainage layers or preformed drainage tiles and reduces dead loadings.
Non-woven filter fabric - allows water to pass into the drain core while restricting the movement of soil and silt particles.
Enhances waterproofing - conveys water away from waterproofing membrane and eliminates hydrostatic pressure build-up.
Lightweight - easy to install, hand laid without equipment
Applications
HYDRODUCT® 650 is a high compressive strength, two-part, preformed geocomposite drainage sheet system, comprising a hollow studded polystyrene core covered on one side with strong non-woven polypropylene filter fabric. This robust drainage composite has been developed to provide a simple, reliable drainage system for collecting and controlling water under roof/podium finishes or used as a dewatering or permanent drainage system beneath basement structures.
The high 862kN / m2 compressive strength of the sheet is capable of taking structural loadings whilst supporting insitu concrete and all types of cementitious or loose laid finishes.
Hydroduct 650 is designed to withstand traffic loadings and provide a high water flow capacity of 3 litre/second/metre width. The tough construction of the studded sheet makes it particularly useful on podium decks where a mixture of traffic surfaces are combined with landscape areas and planters. When installed it will prevent a build-up of water against the waterproof membrane to enhance its overall security and increase the factor of safety of the structure.
The drainage sheet should be laid on top of the waterproof membrane and protection as soon as possible to prevent mechanical damage from other trades. The roof/podium slabs should have adequate falls so that the collected water is carried towards the drainage gullies and channels in accordance with standard practice.
Physical Properties
| PROPERTY | TEST METHOD | TYPICAL VALUE |
| --- | --- | --- |
| Drainage Core |   |   |
| Polymer | N/A | High Impact Polystyrene |
| Thickness | ASTM C 366-B | 9.5mm |
| Compressive Strength | ASTM D 1621 | 860kPa |
| Flow Rate | ASTM D 4716  | 3.0 litre/sec/metre width |
| Geotextile |   |   |
| Type | N/A | Non-woven |
| Polymer | N/A | Polypropylene |
| Weight | ASTM D 3776 | 270g / m2 |
| Tensile Strength | ASTM D 4632 | 900N |
| Trapezoidal Tear | ASTM D 4533 | 360N |
| Mullen Burst | ASTM D 3786 | 2750 kPa |
| Puncture Strength | ASTM D 4833 | 59 kg |
| Apparent Opening Size | ASTM D 4751 | 0.147mm (100 U.S.sieve) |
| Permittivity | ASTM D 4491 | 3260 Litre/min/m2 |
Supply
| | |
| --- | --- |
| Hydroduct 650 | 1.22m x 15.25m long roll (18.6 sq m) weight 22.7kg |
| Storage | Keep under cover in original wrapping and cover immediately after installation |
Ancillary Products
| | |
| --- | --- |
| Bitustik | 150mm x 15.0m long rolls |
| Cut Fasteners | 3 per roll of Hydroduct required |
Equipment by Others
Stanley knife for trimming.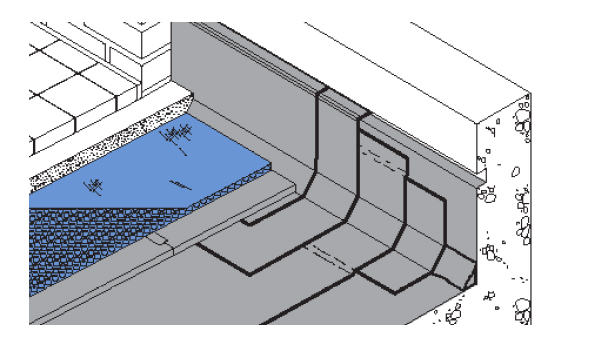 Installation
Can be laid directly under basement slabs or over Bituthene and with Servipak protection boards to prevent mechanical damage.
The geotextile filter fabric is always laid towards the water face to allow water entry. The sheets can be joined by overlapping the geotextile fabric and butt jointing the studded sheet. Cut Fasteners are then used to form a connector at centres to suit application by interlocking a minimum of two dimples on each sheet underneath ie. on the non-fabric face.
Butt and Cut Jointing
Simple butt joints can be made by carefully separating the geotextile fabric and making a weathered overlap and fastening the joints using Cut Fasteners which interlock to form a connector at centres to suit application.
Corners
Hydroduct 650 can be generally bent on site to form internal corners. External corners are formed by cutting the dimpled sheets at corners and providing an additional 100mm wide strip of the fabric to wrap around corner and overlap joint then bonding with Bitustik.
Installation with drainage pipes
Peel back geotextile fabric from studded core. Place drain pipe against core, wrap with fabric and tuck behind core to hold in place prior to backfilling or concreting.
Sealing edges
All exposed edges of Hydroduct 650 should have extra fabric tucked behind core to seal the leading edge to prevent debris or silt from entering the core.
Finishes
A variety of surface finishes can be laid directly on top of Hydroduct 650 without affecting its performance or that of the surfacing. Concrete slabs, block/paving on sand beds, and growth medium for planters etc are all acceptable since the geotextile filter has been specially treated to prevent bonding or clogging.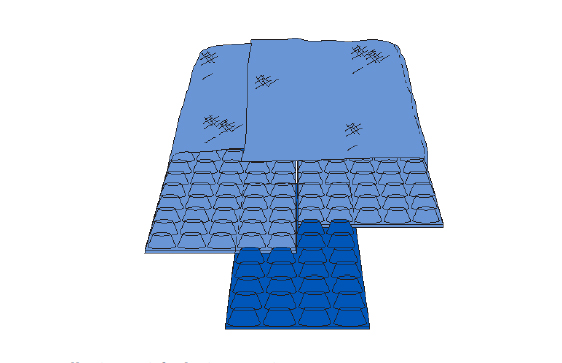 Specification
Hydroduct 650 drainage system shall be placed, fixed and terminated at the correct position to suit the relative levels and installed in accordance with the manufacturer's instructions and supplied by GCP Applied Technologies. For further information contact your local GCP representative.
Technical Services
For assistance with working drawings for projects and additional technical advice, please contact GCP Applied Technologies.
Health and Safety
Refer to relevant Material Health and Safety data sheets.
gcpat.id | For technical information: asia.enq@gcpat.com
Australia 1800 855 525 New Zealand +64 9 448 1146 China Mainland +86 21 3158 2888 Hong Kong +852 2675 7898
India +91 124 488 5900 Indonesia +62 21 893 4260 Japan +81 3 5226 0231 Korea +82 32 820 0800 Malaysia +60 3 9074 6133
Philippines +63 49 549 7373 Singapore +65 6265 3033 Thailand +66 2 709 4470 Vietnam +84 8 3710 6168
We hope the information here will be helpful. It is based on data and knowledge considered to be true and accurate, and is offered for consideration, investigation and verification by the user, but we do not warrant the results to be obtained. Please read all statements, recommendations, and suggestions in conjunction with our conditions of sale, which apply to all goods supplied by us. No statement, recommendation, or suggestion is intended for any use that would infringe any patent, copyright, or other third party right.
Hydroduct is a trademark, which may be registered in the United States and/or other countries, of GCP Applied Technologies, Inc. This trademark list has been compiled using available published information as of the publication date and may not accurately reflect current trademark ownership or status.
© Copyright 2017 GCP Applied Technologies, Inc. All rights reserved.

GCP Applied Technologies Inc., 2325 Lakeview Parkway, Alpharetta, GA 30009, USA
PT GCP Applied Technologies Indonesia, Cikarang Industrial Estate Kav C-32, Cikarang, Bekasi 17530
This document is only current as of the last updated date stated below and is valid only for use in Indonesia. It is important that you always refer to the currently available information at the URL below to provide the most current product information at the time of use. Additional literature such as Contractor Manuals, Technical Bulletins, Detail Drawings and detailing recommendations and other relevant documents are also available on www.gcpat.id. Information found on other websites must not be relied upon, as they may not be up-to-date or applicable to the conditions in your location and we do not accept any responsibility for their content. If there are any conflicts or if you need more information, please contact GCP Customer Service.
Last Updated: 2022-11-24
https://gcpat.id/en-gb/solutions/products/hydroduct-drainage-composite/hydroduct-650